The Royal Collage of Veterinary surgeons have just posted out a reminder to all owners about the hazard of chocolate when the dogs get their paws on it.
Click here to read the article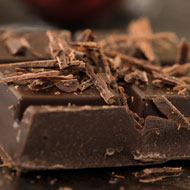 Enjoy your Easter and have fun,
just remember to put your chocolate in your own tum! 🙂
The effects of chocolate poisoning in dogs usually appear within 12 hours and can last up to three days.
Chocolate can be highly poisonous to pets, but dogs are most commonly affected. Although pet owners are becoming increasingly more aware of the dangers, the BVA  figures demonstrate that the majority of vets still see urgent cases because chocolate treats have not been kept out of reach.
Some of the first signs include excessive thirst, diarrhoea vomiting and restlessness. These symptoms can later develop onto tremors, hyperactivity, abnormal heart rate, hyperthermia and rapid breathing. In very severe case, dogs may experience fits and heartbeat irregularities,and some cases can result in coma or death.
Enjoy your Easter and have fun,
just remember to put your chocolate in your own tum! 🙂