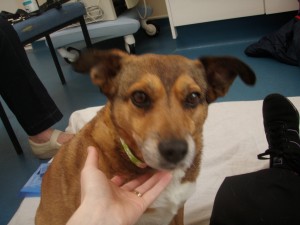 Hello and Welcome to Millie. Millie is a lovely Jack Russell cross. She also had a hard start in life and so, is terribly nervous  The wonderful owner has also worked in dog rescue, so has dedicated her life to helping Millie, and many others.
Millie is suffering lameness in the hind from mild cruciate disease. She has been referred by the vet as he feels we may be able to avoid surgery. She is 8 years old.  But we shall see as sometimes cruciates can be stabilised with exercise  but this takes dedication form the owner and co operation form the patient.
Good luck Millie, keep up the good work and hopefully we can avoid the surgery.