What is Kickstarter
Find out what kickstarter is and how we used it to find our project, the Puppy Massage DVD. 
Donna Wills, owner and founder of Animal Physiotherapy Ltd launched an
exciting new project with Kickstarter. Kickstarter is a crowd funding platform that helps you raise the funds needed for any new idea so that you can get it off the ground and be successful. Donna successfully used her crowd funding opportunity to get funds for the Puppy Massage DVD!
Donna first came across Kickstarter a few years ago, when she saw some very innovative ideas, ranging from printable housing for Africa, to a mini space craft that was so affordable that anyone could join in space exploration with their own mini space craft. It sounds incredible, but they were successful!
This fuelled Donna's imagination as this new method of funding is for anyone. All you need is a unique idea! Kickstarter is a leader in crowd funding, but there are many sites so you can find one that will totally fit your needs. They give you full guidance, encouragement and support every step of the way. You have to prepare your pitch, as you're asking everyone in the world to back your project. As a "backer", you become an investor. This is not like with the banks, where you have to invest large sums of money for very little return. You invest whatever amount you choose to, and in exchange you get rewards that are totally unique! It's often a great bargain and these rewards are often not available at any other time. See the project page for details of the rewards. You get to join the project journey as it unfolds from start to finish, and know that it's because of you, that this is here today! You can pitch for any amount of money, but the catch is that you have to get all your funds in less than 60 days! Donna had 45 days! If you don't get the fund goal, then the project ends and you get no funds at all and the backers get all their money back. This is great protection for the backer as it means they don't lose out just because you didn't reach your goal.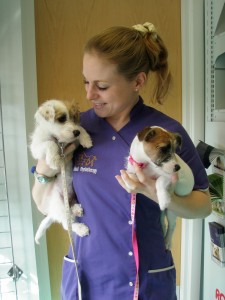 Donna's project idea was born from her career as a veterinary nurse. Seeing pets that weren't exceptionally great at being handled and were nervous in the consultation room was always a little sad. More correct handling as a puppy was always the most effective route to getting a confident and happy dog that was totally comfortable being examined. When Donna became an Animal Physiotherapist, she learnt good, effective massage techniques. She had to use this as part of treatment. She regularly had to show owners what to do to help with successful rehabilitation at home. Owners loved to learn the massage and their dogs loved to receive it. But it did take some practice to get it right, and there is no better way to learn, than to actually see something being done, rather than just read about it, or look at pictures.
So the idea was born. A Puppy Massage DVD. designed to teach owners how to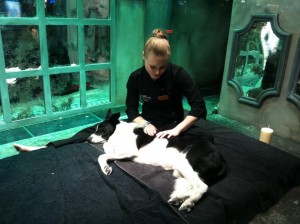 massage their new little bundles of joy in the comfort and privacy of their own home. Rather like the very popular baby massage, new mums often do, owners will be able to form a strong bond and learn to confidently and correctly handle their puppy and touch them all over. Donna believes this will be great for the consultation room, so vets have happy confident puppies to examine. And there are of course all the other well-known benefits of massage including endorphin release, increased circulation and much more. This would also be a good grounding, so that if the owner ever has to learn any therapeutic massage techniques in the future from a professional, then they will have a better understanding of how to do this.
Donna has launched her project with Kickstarter. Please visit https://www.kickstarter.com/projects/877499266/puppy-massage-dvd to see the project and how it developed. And please do share this and tell your friends.
Whilst you are there have a look at the thousands of other projects and see if you may be inspired to find a project of your own to do. It's a very exciting way to get your own business ideas off the ground and make dreams a reality.
Click here if you want to get your own copy of the Puppy Massage DVD and see our other pages to see how our project became a reality and had its successful Launch. We now have 4 stockists too!
We have backer the "Little little free library book campaign" as we believe books should be available to everyone, everywhere!