Education Services
We offer education services to all including: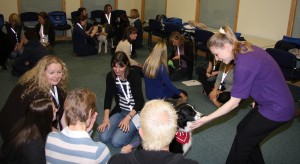 Massage for owners
Introduction to physiotherapy in practice - for veterinary professionals
Dogs as athletes - for owners
Physiotherapy and Rehabilitation for the exotic patient - For animal physiotherapists, qualified or students
Gold Standard Physiotherapy in the osteoarthritic Patient - For veterinary professionals
Post operative rehabilitation - For veterinary professionals
Massage for owners
You can now purchase our Puppy Massage DVD and learn in your own time, in the comfort of your own home. Great for any age dog. See the puppy massage DVD pages for full information on this easy to follow, visual was of learing.
Physiotherapy and rehabilitation for Exotics Patients
This course is being run as CPD for students and qualified animal physiotherapists and
rehabillitation specialists, further education. It is a 6 hour CPD. This is next running in Bracknell in November 2019. Please Contact us to register your interest and we will email you with further information. Date to be confirmed.
In this CPD we will look at how to approach the thought process of dealing with a species you may have little or no experiance with. You will gain confidence in exploring the varying
anatomies and using your current physiological know how, to make assessments and decide treatment plans. We will explore how different species vary and how this can effect our treatment options. We can also look at how specific species issues can also give us clues as to what may be wrong. We will explore a handful of species to give a broad over view of variety. Many of the species you will see in daily practice, but not have had specific training in, is cats and rabbits, so this is a bigger focus in the day. Other species covered in more detail include Skunk, Elephant, Alpaca and Cows. All of which, speaker Donna Wills, has had experiance treating.
We have great passion in encourging the profession to get on board with learning exotic patient care as this perspective will open your mind and help you loo more critically at breed specifics in dogs, as thier anatomy can and does vary so immensily.
You can listen to a pod cast interview with Dr Megan Kelly on Online pet health, comming soon!
Gold standard Physiotherapy in the Osteoarthritic Patient
2 hour CPD for veterinary professionals. Delivered in clinic, to address how physiotherapy can be an important part of the multi modal approach to treating osteoarthritis. Donna is highly passionate in osteoarthritis care and has discussed this at length with Fellow passionate Hannah Capon MRCVS, founder of Canine Arthritis Managment.
Post Operative rehabilitation in Practice
2 hour CPD for veterinary professionals. Delivered in clinic to address what you need to think about when designing your post op rehabilitation plan in practice. It is a good insight into the thought process an animal physiotherapist goes through when setting exercise regimes and rehabilitation plans.
Introduction to physiotherapy in practice
This is a 2 hour CPD for veterinary professionals education. Often done for individual clinics as an evening CPD option. It provides a full understanding of the use of physiotherapy and gives some ideas of how to use it. It is half lecture and half practical. This was developed for BVNA congress and was well received. Further information on enquiry.
Dogs as athletes for owners
This has been developed to teach owners with sporting dogs. They will learn why its important to look after the athletic dog, and how to look after them. It includes learning warm up and cool down techniques. This will improve performance and reduce injuries. Further information on enquiry.
Accredited trainer
For TCAP (Training college for Animal Physiotherapists). Their work experience can be done with us. Physio students need to do a set number of hours with a qualified physio in order to get thier qualification.
Donna Wills had lectured at the following establishments:
Multiple veterinary practices
BVNA Congress
BVNA regional meeting
Improve international in the uk and in Denmark
Excel, London - Rehabillitation congress
Dog owner education Show
Training collage of Animal Physiotherapy
Justo Development
Donna Has also written multiple professional articles for several publications including:
Veterinary nursing times several times
Veterinary Times
Veterinary nursing Journal
Animal Therapy Magazine
Donna research paper for her qualification was in the effect of pulsed electromagnetic field therapy in canine osteoarthritis. She achieved distinction in this paper.
Here is home pet safety guide. It always useful to have further tips on how to keep your precious ones safe.