We offer education services to all including: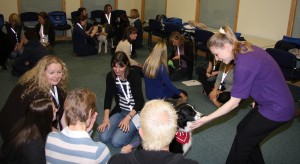 Massage for owners
Introduction to physiotherapy in practice for veterinary professionals
Dogs as athletes for owners
Physiotherapy and Rehabilitation for the exotic patient
Physiotherapy in the osteoarthritic Patient
Post operative rehabilitation
Massage for owners
This is a one day course offers education for owners to learn to massage their own dog. Information will be given on enquiry. Or you can now purchase our Puppy Massage DVD and learn in your own time, in the comfort of your own home. Great for any age dog.
Physiotherapy and rehabilitation for Exotics
This course is being run on behalf of TCAP for students and qualified animal physiotherapists further education. For further details see their web page. It is a 6 hour CPD for animal physiotherapists and rehabilitation specialists. This is next running in Bracknell on 28th October 2017. Please Contact us to book tickets or enquire.
Physiotherapy in the Osteoarthritic Patient
2 hour CPD for veterinary professionals. Delivered in clinic, to address how physiotherapy can be an important part of the multi modal approach to treating osteoarthritis. Donna is highly passionate in osteoarthritis care.
Post Operative rehabilitation in Practice
2 hour CPD for veterinary professionals. Delivered in clinic to address what you need to think about when designing your post op rehabilitation plan in practice. It is a good insight into the thought process an animal physiotherapist goes through when setting exercise regimes and rehabilitation plans.
Introduction to physiotherapy in practice
This is a 2 hour CPD for veterinary professionals education. Often done for individual clinics as an evening CPD option. It provides a full understanding of the use of physiotherapy and gives some ideas of how to use it. It is half lecture and half practical. This was developed for BVNA congress and was well received. Further information on enquiry.
Dogs as athletes for owners
This has been developed to teach owners with sporting dogs. They will learn why its important to look after the athletic dog, and how to look after them. It includes learning warm up and cool down techniques. This will improve performance and reduce injuries. Further information on enquiry.
Accredited trainer
For TCAP (Training college for Animal Physiotherapists). Their work experience can be done with us.
Here is home pet safety guide. It always useful to have further tips on how to keep your precious ones safe.